Neither of us specializes in groundwater chemistry, but we found the course easy to follow and understand.

– Abby M., Horizons Regional Council, New Zealand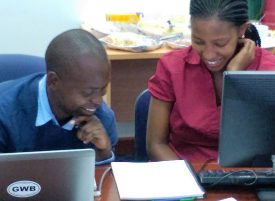 Aqueous Solutions can assemble a personalized workshop from our extensive collection of courseware that meets your group's needs for as little as $3600.
When you consider the value of employee time and efficiency, private instructor-led training can offer significant savings.
Each course is presented in from two to four half-day increments, generally on consecutive days.
Please see our 2023 price list for details. For more information, contact us at sales@gwb.com.
Due to current global conditions, we are offering private training in an online format only. We have suspended site visits until further notice.
/*php if ($index < $length) echo $testimonial_block[$index++]; */?>
I loved the [geochemical modeling] workshop! In the future I would really like to take the reactive transport course.

– Ryan Davis, Colorado State University
Public workshops
We present popular public workshops online and around the world, priced per participant. Please visit our workshops page for more information and join the fun! We hope to see you soon!
Self-paced training
Work at your own pace through self-guided course sequences on the GWB Online Academy. You can even download slides and lesson plans to use when you teach your own seminars!