In your Windows menu, search and open the computer's "Settings" application. In the Settings app, navigate to Time & Language > Language and Region. Take note of the "Windows display language" selected.
Open "Administrative language settings". In the Region dialog that launches, check that the language selected in the section "Current language for non-Unicode programs:" is the same as your display language. If the languages are different, change your locale language to match the display language and click "OK". Once the change takes effect, you can try saving or opening your file again with non-ASCII characters.
If it is not feasible to set your system locale language in sync with the display language, you may consider enabling Unicode UTF-8 for worldwide language support. To do so, return to the Region dialog, click on "Change system locales..." in the "Language for non-Unicode programs" section. In the "Region settings" dialog that opens, check the box next to "Beta: Use Unicode UTF-8 for worldwide language support" to enable it.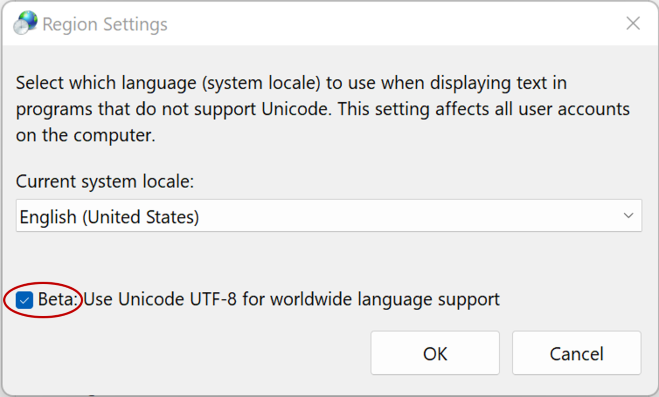 Click "Ok" to exit. Once you have enabled this setting, you will need to restart your computer for the change to take effect.